Earn $1.50/lead & up to $325/sale
Higher Payouts and Higher Conversion rates
Why You Should Sign Up with our Free Affiliate Program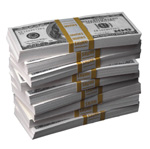 NEW! EARN $1.50 PER LEAD!
We are paying our affiliates $1.50 per lead and there are a lot of leads. Get in on this today! We are offering your visitors a Free Resume Consultation and they really like the offer because they are signing up in volume! This is a brand new way for you to make more money...fast. Just send the traffic. We will convert them and you get paid! It's simple to get in on the action... Sign Up Now to Get Started!

A Perpetual market with consistent Sales
With 6.7 Million people unemployed and a huge share of the employed population looking for a new job,(surveys show that 50% of the current workforce would like to change their jobs!) the Employment market is not only huge, it is always around. It is a perpetual market! With the number of applicants increasing and the market becoming more competitive, Professional Resume Writing has quickly become the most popular employment service to help candidates stand out from the crowd. A leader in Resume Writing services, Employment911 boosts a 93% success rate at getting our clients job interviews and job offers with its resumes, and this means high conversions and high commissions for our affiliates.

Earn Revenues on all Services
Contrary to most job affiliate programs out there, Employment911 pays for a complete range of services including our best-selling Resume Writing service, Resume E-mail Blasting, Resume Posting to 80 top sites, Free Resume Posting & Free Resume Critique. What it means is that you have the ability to create an inclusive employment section, which will not only add value to your website but create an additional source of revenue.

3 Affiliate Commission rates
Employment911 offers 3 commission rates, from 12.50% to 25%, which guarantees our most active affiliates to earn from $28.74 to $73.99 per resume writing sale. In addition, our most productive affiliates are being rewarded with the opportunity to promote an exclusive government executive resume service that pays them up to $324.75 per sale ...
Sign Up Today to Earn Big

2 sources of revenues: sales and leads
Not only can you earn commissions selling our professional Resume Writing and Distribution Services, but all affiliates can also earn commissions with the leads for our free services too! We pay for Free Resume postings and Free resume critiques and since these services are free to job seekers, lead conversions are through the roof.

High Conversion rates
Thanks to our unique 100% money back guarantee and our strong reputation, some of our top affiliates have been earning between $4,000 and $9,000 per month, just in resume writing sales, with an earning per click — EPC ratio — that can go as high as $2.08/click.
Why you can Sign Up in Confidence

Accurate tracking
Sales, leads and traffic are tracked both through an affiliate ID included in your url and through cookies that last 10 years, which means that even if your visitors come at a later time to purchase our services without going though your site, you will still get credited for the sale. In addition real-time reports are available 24/7, just by logging into your administration area.

Monthly payments
We pay commissions every month with a minimum payout of $25. Checks are sent to affiliates worldwide, and since most sale commissions start around $20, it's easy to get a check every month.

Secure Information
Your contact information is secure with us — we hate spam and fraud as much as you do.
Sign Up Today to Earn Big
Free Tools
All of our affiliates have access to a complete tool chest of free money making tools including specially written articles and our famous "job search form" which allows your visitors to look for jobs right from your site. In addition to that we provide free affiliate tips and news through our affiliate newsletter, affiliate blog and twitter account.
How it works
Just click the following link, fill out a quick form and within a few minutes, you will receive an e-mail with a few easy to do steps and you'll be all set. We will also send you our best converting affiliate links. In addition, if you have any question, you can always reach your affiliate manager easily by e-mail or by phone.
Sign Up Today to Earn Big

Do you have a high-traffic site (Alexa ranking lower than 100,000), which is employment-related or specialized in one of the following industries: Federal Government, Nursing / Healthcare, Engineering, IT, Legal / Lawyers, Accounting / Finance, Executive, Teachers, Sales? If so, contact me after signing up, as you might qualify for a higher commission rate.

Frederic Hom
Affiliate Program Manager
Already an affiliate? Log in to your account here