Professional Executive Resume Writing Service
Executive Resumes 100% Guaranteed to get Interviews & Job Offers
— or you'll get your money back —

Why a Professional should write your Resume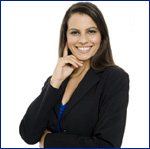 Would you like to eliminate all the 'screen out factors' that lead to your resume being dumped into the trash? There are definite inside tips and tricks to having your resume receive proper attention. With decades of inside experience and professional executive resume writing knowledge our success rate is incredibly high for executives across all industries, and it will be for you too.
The secret is to make certain that your resume includes your progressive experience, but moreover, clearly shows a path to success and achievement by mapping out your employment history in a manner that easily allows a potential employer to envision you as a productive and proactive leader with the required experience, expertise and diligence.
Your new resume will be written according to all the latest hiring and economic trends, recruiting techniques, and employment search technologies, so that you will enjoy a competitive edge that leads to more interviews and job offers, whether you are an executive looking for a new job, a career change or a promotion.
Why We Should Write Your Executive Resume

Our Professional Executive Resume Writers are certified through PARW, CPRW or NARW


Our Professional Writers are specialized in Executive Resume Writing


Our Professional Resume Writers have more than 30 years of experience


Our Professional Resume service has a 93% success rate


Our Professional Resume service has a track record of helping more than 11,000


applicants get new jobs


See for yourself what our customers have to say: check out our success stories
Testimonials
Here are a couple of the latest testimonials we received (click here for more testimonials):
"I am happy to report that one of the companies for which I interviewed, extended a job offer to me and I have accepted. I am certain that without the professional services of your company, my circumstances would be much different. I would not hesitate to refer others to use your exectuive resume writing services and resources as an aid in conducting a successful search for employment."
C.L.
"I got the job of my dreams using your resume. I got an almost 10% increase and moved up to a CIO postion. The really amazing thing is that I had applied for the position in September using an old resume that I had, and never heard a word from the company. About a week after posting my new resume that you created for me, I got a cold call from their corporate recruiter, and the rest is history! Your resume made all the difference. Thank you!"
D.K., CIO
"I was very delighted with the management resume I received, it was exactly what I was looking for. Again I say thanks for your company's professionalism and service. When I do land the job I seek I will inform you."
B.M.
"I received a call for an interview within days of sending my resume. I was offered a job one week later to make over 40% more in salary than my old job. I accepted it right away and started on November 5th. I have referred about 10 people to your service."
C.
"Thank you again for all your work. I could have worked on my resume for weeks and the end result wouldn't have been half as good! I am impressed with the end result and the high quality of customer service from beginning to end. I will definetely be recommending your company!."
S.H.
Order your Resume Today & Save Instantly 30%
Get a Free Cover Letter & Thank You Letter
Your package will also include the 3 following Bonuses:
>> Bonus #1: Free Professionally written custom Cover Letter
>> Bonus #2: Free Professionally written custom Thank You letter
>> Bonus #3: Free Microsoft Word & web text formatting
How Does It Work?
Step 1: Order your resume online
It's easy and it's fast! It takes less than 2 minutes to sign up and get started.
Step 2: Send in your resume information & job history
You can email us your information or use our online resume wizard to send us your information.
Get your own professional executive resume writer
You will be assigned your own professional executive resume writer with whom you will be in constant communication through a resume desktop that we specifically set up for you. Our customer service will also be available to help you, over the phone, by e-mail or through the desktop.
Turn Around Time
Turn Around time is 2 to 3 days but you can order a 4-to-6-hour rush online, if you need your resume sooner.
Step 3: Approve your new resume
Once your resume package is ready, we will email it to you for approval. Your writer might contact you for additional information if needed and will be happy to make any changes at your request.
Why You Can Order Our Executive Resume 100% Risk-Free & In Confidence
The best Guarantee on the market: 100% Money Back Guarantee
While most other Resume Writing companies claim to offer a "satisfaction guarantee", what they really mean is that they will rewrite your resume for free if you request it—nothing more. With us, what you will get is not just a simple rewrite, but the real guarantee to get more interviews with our resume, which is the strongest pledge you can get on the market.
Not only will we re-write your resume for free if you don't get more interviews within 6 weeks of using your new resume, but we will go one step further:
If after 120 days of using your new resume you aren't satisfied that it is helping you in your job search — we'll refund 100% of your money! That's how confident we are that our service will help you.

Your Order is Safe


We are registered with the Better Business Bureau and the US Chamber of Commerce


Our Order pages are fully secure


Our server security is certified by Geotrust
WEEKLY SPECIAL
Save 30% & Get 2 Free Additional Bonuses!

For a limited time, you can save 30% and get a Complete Executive Resume Package for only $189, when you order online — not a lot of money considering that some of our competitors charge $345 for just an executive resume. But Wait, that's not all: ORDER ONLINE & Get these Great Bonuses:



>> Bonus #4: We are giving away this week our exclusive Job Search Success guide (a $39 value) to customers who order online. Loaded with great information and tips from career professionals, this e-book will help you create and implement a winning 5-step job search plan.



>> Bonus #5: We are also giving away this week our brand new Interview Secrets guide (a $39 value) to customers who order online. This e-book shows you how to answer important and tricky interview questions, including the much-dreaded salary question, and will help you ace job interviews.


... This Offer ends on THURSDAY ... so Act Fast ...



" there are only "