Military to Civilian Resume Writing Service
100% Guaranteed to get Civilian Interviews & Job Offers
— or it's Free —

Why a Professional Military Resume Writer should Write your Resume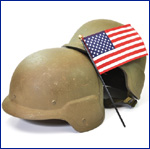 Have you recently ended your military career, possibly retiring, or thinking of a career change into the civilian work world? If so, then you need a civilian-based resume that removes all military jargon and replaces it with key industry buzzwords and phrases! Do you know that the #1 reason many military personnel and officers do not successfully make the break into regular jobs is because their resumes are too formal, too detailed, and most importantly lack the focus and direction a civilian's resume offers a corporate employer? While your resume may have been perfect in the Army, Navy, or Air Force, it will simply not be effective in your upcoming civilian career search.
Not only have basic resume writing rules changed since you were last in the civilian job market, but also potential employers are now looking for different and unique qualities. We can take your specialties and key skills and translate them into solid, essential transferable assets that a professional of your caliber requires. By fine-tuning your resume and highlighting your career achievements, we can re-focus your career achievements and responsibilities so seamlessly that you can smoothly make your important transition.
Don't let your resume hold you back, let it be your most powerful personal marketing tool. Your new resume will be a carefully written, thorough resume package that will reflect all your unique areas of expertise, skills, and career milestones to make you the perfect candidate to enter this new and competitive job market.
Why We Should Write Your Conversion Resume

Our Professional Military Resume Writer is ex-Military: not only is he specialized in military conversion resumes but he is also fully familiar with the military transition process and knows what you need to make a successful transition to the private sector.


Our Professional Resume Writers have more than 30 years of experience


Our Professional Resume Writers are certified through PARW, CPRW or NARW


Our Professional Resume service has a 93% success rate


Our Professional Resume service has a track record of helping more than 11,000


applicants get new jobs


See for yourself what our customers have to say: check out our success stories

Order your Military Resume Today & Save Instantly $83
Testimonials
Here is one of the latest testimonials we received (click here for more testimonials):
"It would be hard for me to forget a company that has helped me start my new career. As I mentioned before your staff did an excellent job transferring my military experience into the civilian workforce terminology; I thank you again."
Michael W.
"As far as my resume is concerned I am completely satisfied with the results. In only a few short days I have already received responses from potential employers. The process for creating my resume was quick and easy and the customer service was outstanding. I will recommend your resume service to the people I currently work with who are in the process of transitioning from military to civilian themselves."
Jason.
"First, allow me to thank you for an excellent job on the military to civilian conversion resume. The write up is excellent … Once again, thank you for a job well done."
Michael R.
"Thank you to all for making it happen for me. After using your services, I have secured desirable employment. No small feat, considering I relocated, going in cold to a new job market! Thanks again!!"
A.S.
How Does It Work?
Step 1: Order our services & pay
Order Online: It's fast and easy! It takes less than 2 minutes to sign up and get started.
Step 2: Send in your information & job history
You can email us your information or use our online resume wizard to send us your information.
Get your own professional military resume writer
You will be assigned your own professional military resume writer with whom you will be in constant communication through a resume desktop that we specifically set up for you. Our customer service will also be available to help you, over the phone, by e-mail or through the desktop.
Turn Around Time
Turn Around time is 2 to 3 days but you can order a 4-to-6-hour rush online, if you need your resume sooner.
Step 3: Approve your new resume
Once your resume package is ready, we will email it to you for approval. Your writer might contact you for additional information if needed and will be happy to make any changes at your request.
Why You Can Order Our Services 100% Risk-Free & In Confidence
The best Guarantee on the market: 100% Money Back Guarantee
While most other Resume Writing companies claim to offer a "satisfaction guarantee", what they really mean is that they will rewrite your resume for free if you request it—nothing more. With us, what you will get is not just a simple rewrite, but the real guarantee to get more interviews with our resume, which is the strongest pledge you can get on the market.
Not only will we re-write your resume for free if you don't get more interviews within 6 weeks of using your new resume, but we will go one step further:
If after 120 days of using your new resume you aren't satisfied that it is helping you in your job search — we'll refund 100% of your money! That's how confident we are that our service will help you.

Your Order is Safe


We are registered with the Better Business Bureau and the US Chamber of Commerce


Our Order pages are fully secure


Our server security is certified by Geotrust
Get 3 Bonuses including a Free Cover Letter & a Free Thank-You Letter!
We will write both your cover letter and thank you letter for Free — here are the 3 bonuses you will get when you order online:
>> Bonus #1: Free professionally written cover letter - a $37 value
>> Bonus #2: Free Microsoft Word & web text formatting - a $37 value
>> Bonus #3: Free custom written follow up & thank you letters - a $37 value
WEEKLY SPECIAL
Save $83 & Get 2 Free Additional Bonuses!

Today, you can save $83 (25% Off!) and get a professionally written military-to-civilian resume for only $249, when you order online. Not a lot of money considering that some of our competitors charge $395 for the same service. But Wait, that's not all: ORDER ONLINE & Get these Great Bonuses:



>> Bonus #4: We are giving away our brand new Military Transition guide (a $49 value). Filled with great information and tips, including samples that will help you keep your resume and cover letter up-to-date, this e-book covers everything you need to make a smooth military-to-civilian transition, from where to find veteran jobs to how to answer interview questions.



>> Bonus #5: We are giving away this week our exclusive Job Search Success guide (a $39 value) to customers who order online. Loaded with great information and tips from career professionals, this e-book will help you create and implement a winning 5-step job search plan.


... This Offer ends on THURSDAY ... so Act Fast ...



" there are only "